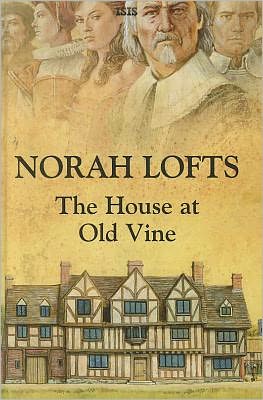 The House at Old Vine is the second in the 'House' series. (See my review of the first book, The Townhouse, here.) It is broken down into six parts, each telling the stories of the house's inhabitants through the decades from the end of the fifteenth century until the end of the seventeenth century.
Josiana Greenwood's story opens her story in 1496 in Suffolk, England. Josiana is cruelly treated by her grandparents. She is the result of an illicit affair with an unnamed man, and suffers along with her mother.

One day her mother rescues Josiana from an arranged marriage that would financially benefit her grandfather. She takes her to the priory at Clevely where she is taken in by the nuns and lives a quiet and peaceful life until she meets Walter, the love of her life. This is where her life changes drastically.
Part two picks up with Elizabeth Kentwoode telling her story and shows the love and devotion she has for her grandfather, until he makes a grave mistake one day by not defending her actions. Even though she is only a child, she never forgets what he does. Elizabeth's response to this turning point causes a sequence of events that alters her future in ways she cannot fathom.
The year 1620 begins part three with Barbara Hatton who becomes a Kentwoode by an arranged marriage which takes her to live in the Old Vine. Her marriage to handsome John Kentwoode has a fairytale-like beginning, but soon turns to disaster.
Antony Flowerdew's story envelops part four in 1645 as he tells of being a spy in the Rahabites organization. His journey takes him to Baildon and to the Old Vine and becomes involved in the inhabitants lives.
Part five is about Ethelreda Benedict and the most unusual way she eventually becomes a part of life at the Old Vine. She comes from an isolated swamp are where she has been raised by her father. Their lives are filled with superstition and pagan worship until she ends up in Baildon and learns a whole new way of life.
Oliver Stanton's story ends the book with part six. He is drawn to Baildon where he attended school as a boy at the Old Vine. He is destitute because of the hard and willful hand his father had over him, which he finally refused to live under any longer.

His father's marriage arrangement to a woman he does not love–forcing him to abandon the woman he is in love with–pushes him over the edge. He leaves home with nothing and seeks out his old teacher, Mr. Flowerdew. Life is hard, but fulfilling, until circumstances surrounding Ethelreda complicate his life.

My thoughts

I love the way Norah Lofts weaves her stories. At times, I grew weary of all the sadness and hardness of life revolving around these characters. Times in these centuries were hard, but so is life today. We have merely traded it for a different kind of hardship.

Overall, I have really enjoyed reading both of these novels. The third and final installment, The House at Sunset, covers from the eighteenth to the twentieth centuries. I look forward to see how Ms. Lofts ends her tale of all the inhabitants of the Old Vine. Her historical details of each era is fascinating and I have learned a great deal about life in those times.

The social, physical, and religious elements are so informative. It's amazing how these things progress from generation to generation, and she expresses it so seamlessly.

Recommendation: I would recommend checking out other Norah Lofts' works. You can find them here.

Have you read Norah Lofts? What did you think? Do you have any books in this genre to recommend to me?